Kenyan sand boa - color morphs
Just like many other snake species, Kenyan sand boas come in a variety of colors. These are a result of genetic mutations, which lead to the snakes not producing certain pigments. Snakes which don't produce black pigment will become paler - which we all know as albino, while some will have only black and will be anerythristic.

Photo by Roy Stockwell
The main Kenyan sand boa types are: normal, albino, anerythiristic, amelanistic, snow, albino, and paradox. You can see the anery, snow and albino in the photo below.

Photo by Roy Stockwell
Below, amely and anery Kenyan sand boas (amelanistic and anerythristic)

Photo by Roy Stockwell
There are also some morphs which will display all the traits of one of the main types while showing some irregularities. These are called 'paradox'. Below are some paradox albino Kenyan sand boas - they are basically regular albino looking snakes with black random blotches.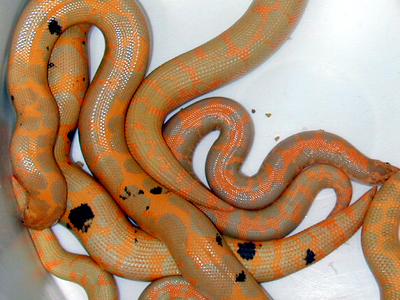 Photo by Roy Stockwell
Available pet snakes

Kenyan sand boas

2006 babies, very large, well started and all eating ! Only 8 left !