Kenyan sand boa - feeding


Kenyan sand boas feed on rodents. They are ambush preditors. They uaually hide under the surface of the sand, and with their head sticking slightly out they will grab they prey. The are small snakes, but they can be suprisingly robust. They are quick and quite powerful constrictors for their age.

Baby Kenyan sand boas feed in captivity on pinky mice. Usually new born, and gradually move up to eat large pinkies, then fuzzies and hoppers. They should always be fed an appropriate size rodent, which is about the size of their girth in the widest place of their body. When small, Kenyan sand boas should be fed once every 5 days. When growing, they can 2 or three pinkies at a time, until graduating to larges size rodents.

Kenyan sand boas are constrictors.
Larger Kenyan sand boas will eat adult mice. When bigger, they will can take two or three mice at a setting.
Large females will eat small rats. Kenyan sand boas can eat quite large rodents for their size.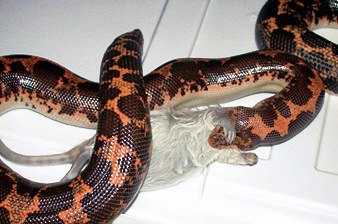 They seem to have small mouths, but Kenyan sand boas can eat quite large rodents. This Kenyan sand boa female, one of my breeders, eats a small rat here.
Available pet snakes

Kenyan sand boas

2006 babies, very large, well started and all eating ! Only 8 left !